AREADNE 2008
Research in Encoding And Decoding of
Neural Ensembles

Nomikos Conference Centre
Santorini, Greece
26-29 June 2008

Recommended Activities
Visit the volcano.
Daily cruises to the small centermost islet. Swim in the sulfur springs.
Archaeological Museum at Fira
open 08.30-15.00 (closed Mondays)
tel +30-22860-22217
Ypapantis Street, Fira

Museum of Prehistoric Thera
open 08.30-15.00 (closed Mondays)
tel +30-22860-23217
Mitropoleos Street, Fira

Folk Art Museum
open 10.00-14.00 and 18.00-20.00
tel +30-22860-22792
Kondohori, near Fira

Wine Museum
Volcanic Wines
open daily 12.00-20.00
tel +30-22860-31322
located in Vothonas village

Visit Oia for sunset
sunset is at approximately 8pm in late June; once in Oia, follow the crowds along the main path

Visit the Monastery of Profitis Ilias
located at the highest point on Santorini, toward the southern end of the island

Cooking Classes at Selent Restaurant
An all-day cooking class at the restaurant where we will have our banquet diner. By arrangement, with 10 people maximum per class, and at an additional cost. Please contact one of our local organizers. +30-22860-22249.

Main Beaches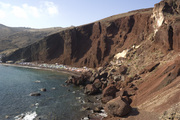 The beaches on Santorini are beautiful and varied, with white, red, or black sand depending on location. However, swimming must be done with some care as the water gets deep very quickly and rip currents are not uncommon. Flip-flops are a must as the sand gets very hot in the sun. SCUBA diving is also available with trips to wrecks, the volcano, and the underwater caldera face (or so we are told; none of us dives).
Perivolos, 13.2 km
Perissa, 13.2 km
Vlychada, 12 km
Kamari, 10 km

---
Copyright 2005–2023, All Rights Reserved.
AREADNE | Email | Archive