AREADNE 2022
Research in Encoding And Decoding of
Neural Ensembles

Nomikos Conference Centre
Santorini, Greece
28 June – 2 July 2022

Hotel Information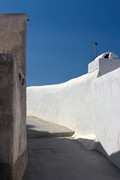 The Petros M. Nomikos Conference Centre is located in the town of Firá, the main settlement on Santorini, approximately a 10 minute walk from the center of town, and about the same distance from Firostefani. While there is a driveable approach to the Centre, this is not the case for many of the hotels, especially ones on the caldera face. The network of proper roads in the towns is limited, and most communication is along footpaths. The neighboring towns of Firá and Firostefani are no longer distinct so it is difficult at times to tell which you are in (and nothing about the conference depends on it). While it is possible to stay in the towns of Oia or Kamares, that would require driving some distance to and from the conference center each day. Instead we recommend that attendees stay in Firá or Firostefani.
If you have difficulty walking along steep paths, or require wheelchair access, please be sure to inquire about hotel accessibility as you make your reservations. Please be sure to mention this to us via email at info@areadne.org early on, and when registering for the conference.
The list of hotels below is not exhaustive, but each has been visited by our local organizers to verify that location and quality is appropriate for the conference. These hotels are all walking distance (5 to 15 minutes) from the Nomikos Conference Centre. Every hotel reception desk will have someone who speaks English. Also, we recommend inquiring if better prices are available. All prices below are in euros (EUR). Because the hotel industry is so competitive in Santorini, it is entirely possible you can find much better rates elsewhere. There are many, many small hotels and pensions in Santorini.
The major determining factor of room price in Santorini is proximity to the caldera face. Hotels will subtly distinguish between a sea view (or sometimes morning view) that usually faces away from the caldera toward the outer Aegean versus a caldera view that faces directly into the caldera (although there are exceptions; if you determine that the hotel is on the caldera face, then "sea view" may mean toward the caldera). When viewing official photographs of a hotel, if stunning views of the caldera are not prominent, then the property likely does not face that direction. There are a few new hotels that are to the south of Firá along the road to Pyrgos that are inexpensive, but a little too far to walk, so it is wise to check the exact location of any hotel you might book. While previously hotel and restaurant locations were somewhat inaccurately depicted on on-line resoures, they appear to have been improved greatly over the last few years. It is still wise to check more than one map to verify exact location.
All of the hotels below are within walking distance of the Nomikos Centre. For a 10-15 minute walk, look for a hotel that is no farther south than the edge of Fira (from where there is a substantial elevation difference to the Nomikos Centre) and no farther north than a little beyond the center of Firostefani. This north-south range approximately matches the orange band along the caldera on a map of Firá that shows the locations of some hotels. Hotels listed below are in that same range.
We have found that booking.com and hotels.com are excellent sites to arrange accommodations. Many of the properties below offer discounted pre-paid or non-cancellable rates. It is highly recommended to verify a booking placed on-line directly by phone or email with the hotel. It is also sometimes possible to get a better rate by going directly to the hotels, especially if you are a repeat customer.
PLEASE NOTE THAT SOME OF THE RATES BELOW ARE FROM PAST SEASONS AND THAT ADJUSTMENTS SHOULD BE ANTICIPATED FOR 2022.
---
Category A
---
Homeric Poems
tel +30-22860-24661, 2, 3, -25025, 6
www.homericpoems.gr
2022 rates from hotel web site, breakfast included
Double Room
EUR
481
Deluxe Double Room
EUR
553
Superior Suite
EUR
549
Cave Suite
EUR
770
Manos Small World
tel (summer) +30-22860-22091
tel (winter) +30-22860-24275
www.manossmallworld.gr, manosvil@otenet.gr
2022 rates from hotel web site, breakfast included.
Junior Suite
EUR
275
Superior Suite
EUR
336
Family Suite
EUR
522
Cliff Side Suites
tel +30-22860-22141
fax +30-22860-22187
www.cliffside.gr, info@cliffside.gr
2022 rates from hotel web site
Superior Double
EUR
356
Superior Room
EUR
500
Santorini Palace Hotel
tel +30-22860-22771, -22781
santorinipalace.gr
2022 rates from hotel web site, breakfast included.
Standard Double
EUR
256
Superior Double
EUR
292
Agali Houses
tel +30-22860-22811
www.agalihouses.gr
info@agalihouses.gr
2022 rates from hotel web site, breakfast included.
Double Room
EUR
294
Superior Double Room
EUR
310
Executive Room
EUR
328
Junior Suite
EUR
341
Superior Suite
EUR
450
Sunset Suite
EUR
650
Kalisti Thera Hotel
tel +30-22860-22317
www.kalistihotel.com
contact@kalistihotel.com
2022 rates from hotel web site, breakfast included.
Double Room
EUR
297
Deluxe Room
EUR
332
Luxury Suite
EUR
392
Executive Suite
EUR
431
Elegant Suite
EUR
471
Prestige Suite
EUR
707
Dana Villas
tel +30-22860-22566
www.danavillas.net
2022 rates from hotel web site, breakfast included.
Deluxe Room
EUR
479
Junior Suite
EUR
513
Superior Suite
EUR
566
Superior Villa
EUR
661
Cave Pool Suite
EUR
783
Superior Pool Villa
EUR
1175
Cosmopolitan Suites
tel +30-22860-25632
www.cosmopolitan-santorini.com
info@cosmopolitan-santorini.com
2022 rates from hotel web site, breakfast included.
Cosmo Suite
EUR
786
Cosmopolitan Suite (2 BR)
EUR
907
Cosmo Suite
EUR
975
---
Category B
---
Reverie traditional apartments
tel +30-22860-23322
www.reverie.gr
2020 rates hotel web site.
Mini Standard (double room)
EUR
68
Standard (double room)
EUR
80
Studio (double studio)
EUR
99
Suite (superior studio)
EUR
184
Hotel Galini
tel +30-22860-22095
www.hotelgalini.gr
2019 rates from hotel web site, breakfast extra.
Mini Double
EUR
234
Superior Double
EUR
268
Premier Double
EUR
289
Supreme Double
EUR
332
Junior Villa
EUR
620
Family Villa
EUR
750
Vallas Apartments
tel +30-22860-22050, -23520
www.vallas.gr
2020 rates from hotel web site, breakfast included.
Sunrise rooms have a view of the Aegean, sunset rooms have a view of the Caldera, and garden rooms do not have a view of the sea. Vallas has one primary location, and a scattering of apartments at various distances.
Sunrise Apartment
EUR
149
Garden Apartment
EUR
180
Sunset Apartment
EUR
189
Vista Suite
EUR
220
Rock Houses facing caldera
EUR
315
Kafieris Hotel
tel +30 22860-25759
fax +30 22860-22551
www.kafierishotel.com, kafierisapartments@gmail.com
2022 rates from hotel web site, breakfast included. Be aware that there are multiple properties in Santroini with "Kafieris" in the name, and, even more confusingly, the linked property goes by multiple names as well.
Economy room
EUR
222
Standard room
EUR
278
Double room
EUR
325
Famliy room with view
EUR
390
---
Category C
---
Gaby Apartments
tel +30-22860-22057; fax +30-22860-22502
gaby-apartments.santorinihotelsonline.com
Breakfast not included.
Not all rooms face the caldera.
2014 rates: expect adjustments upwards for 2022. Rates available only through inquiry on their web site.
Double room
EUR
65
Triple room
EUR
78
Room for 4 persons
EUR
110
King Thiras Hotel (sometimes spelled King Theras Hotel)
tel +30-22860-23882, -23847; fax +30-22860-22155
www.booking.com/hotel/gr/king-thiras.en-gb.html
Some rooms have sea view (none have caldera view).
2020 rates from Booking.com, breakfast included.
Single room
EUR
60
Double room
EUR
75
Triple room
EUR
85
---
Copyright 2005–2022, All Rights Reserved.
AREADNE | Email | Search | Archive