AREADNE 2016
Research in Encoding And Decoding of
Neural Ensembles

Nomikos Conference Centre
Santorini, Greece
22-26 June 2016

Practical Information
Santorini is an island in the Aegean Sea, one of the Greek Cycladic Islands. Google Maps nicely shows Santorini (zoom in and out to get a good idea of where the island is in the Aegean sea and its position relative to Athens). The island has two names, Santorini and Thira (TH'EE-ra, sounding very much like the English word theory).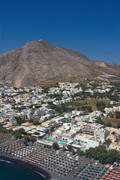 Firá (fee-RAH, subtly different from the island name) is the capital town of the island, perched atop the edge of the caldera cliff formed by the volcanic eruption ca 1600 BC. Adjacent to Firá is the town of Firostefani (fee-roh-ste-FAN-ee). The Nomikos Centre is in Firá, toward the northern edge of town, near Firostefani. The view of the caldera from Firá and Firostefani is majestic. In these towns you will find all kinds of shops from tourist traps to banks, public phones, jewelers, travel agencies, pharmacies, internet cafes, restaurants, bars, discos, etc.
Kamari (ka-MAR-ee) is a small town located on an impressive beach. It offers a number of tavernas, beach bars, cafes, and a diving center. Above Kamari is the archaeological site of Ancient Thera, and nearby are the active excavations at Akrotiri. A visit to one of these two archeological sites is scheduled for conference attendees.
Oia (EE-ah) is located on the northwestern end of the island at the edge of the caldera cliff. Oia is famous for its romantic sunsets, and a number of fancy cafes and restaurants can be found there. While there are many hotels in Oia, we do not recommend staying there as it is a 10 km drive from Firá along a narrow winding road, and it is not unusual for the trip to take upwards of 30 minutes due to traffic at specific times of the day.
What to Bring
You will be visiting a Greek island, so in addition to the conference, that means sun, sand, excellent food, and nightlife! We recommend bringing suntan lotion, a bathing suit, flip-flops, a beach towel, sunglasses, loose-fitting light colored clothing, and a hat. If you want to take a swim in the sulfur springs, bring an old bathing suit as the minerals can cause cloth discoloration. If you want to visit the volcano, bring sturdy walking or hiking shoes as well. Don't forget your camera and extra supplies like memory cards, batteries, and chargers.
The typical weather in late June is dry, clear, and warm (80 F / 26 C; 50% humidity; 10 mph / 15 kph breeze). The moon will be full just before the 2016 conference, so the famously dark skies of the Greek islands will be somewhat muted. Current and historical weather for Santorini can be found at The Weather Underground, and Weather2. As of 2:00 EET on January 1, 1970, the conditions are 0 F / -17 C (current observation Powered by Dark Sky).
If you are planning on renting a two-wheeled scooter or a motorcycle, you must have a proper motorcycle license. Four-wheeled vehicles (ATV style) are widely available for those without motorcycle licenses. Many hotels are located within walking distance of the Nomikos Conference Centre, so renting a motorized vehicle is not required.
Money, Electrical Power and Internet Access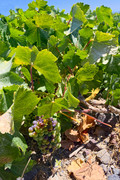 The unit of currency in Greece is the euro (EUR). While a growing number of shops accept credit cards, the Greek island economies are still largely cash based. There are ATMs at many banks in Firá, including at the main square. If your bank has a daily limit on ATM withdrawls, please bear in mind that the last two days of the conference fall on the weekend, and these are often considered a single day for ATM access, so plan accordingly.
Electrical power is 220 Volts at 50 Hz using standard European plugs (most commonly like this or like this). Most laptop, tablet and phone chargers are designed for global use, thus only require an adapter and not a transformer (more info here from the US perspective).
While there are inexpensive internet cafes available in Firá and elsewhere on the island, and many hotels now offer wireless service, the conference will be providing only limited connectivity, and none in the main hall. This is a conscious decision to encourage attendees to participate in the conference rather than being distracted by email and the Web. The response from previous attendees on this policy has been overwhelmingly positive. Please bear in mind that normal internet connections in the Greek islands are comparatively slow and can be somewhat unreliable. The island has experienced days-long interruptions in connectivity during previous conferences.
Mobile Phones
Greece has an extensive GSM network operating at 900 and 1800 MHz. Pay-as-you-go SIMs are available from many vendors throughout the country, and top-up cards are available at nearly every kiosk.
For US attendees with GSM phones, if you wish to use your mobile phone and home phone number, you will first need to verify that yours is an international or world phone. Then you will need to contact your service provider before departing the US to enable international roaming. Be sure to inquire about rates while abroad as there are often substantial surcharges! If you wish instead to get a local pay-as-you-go SIM, you will need to unlock your phone. Please contact your service provider for information on doing that. Allow a few weeks for either of these two changes. Also, if you have a 3G or 4G device (iPhone, Droid, Galaxy, Kindle, Blackberry, etc.) be particularly careful to understand the roaming and data costs associated with travel abroad.
Day Care Facilities
Many hotels in Firá and Firostefani have day care services as part of their offerings. See for example http://reservationshotels.org/en/city-18108/filter and click the box labeled Santorini hotels with Babysitting/Child Care. Alternately, a web search for Santorini childcare will bring up a large list of equivalent hotel search engines. Please verify with hotels prior to making reservations that they do have child care available.
Handicapped Access
The Nomikos Conference facility is wheelchair accessible from the road entrance. Please contact hotels directly to assess how accessible they are. As a rule, Firá can be difficult-to-challenging to navigate by wheelchair. Many of the pathways are cobblestone, and small steps or other surface irregularities are frequent. Please send email to the conference organizers at info@areadne.org to inquire about details.
---
Copyright 2005–2023, All Rights Reserved.
AREADNE | Email | Search | Archive