AREADNE 2022
Research in Encoding And Decoding of
Neural Ensembles

Nomikos Conference Centre
Santorini, Greece
28 June – 2 July 2022

Travel Information
Most paths to Santorini require a stop in Athens. While there are some international flights directly to Santorini airport from larger European cities such as London and Frankfurt during the summer, these flights are less frequent than those from Athens. In addition to the information on this page, there are many travel guides and web sites with extensive coverage of Santorini.
Getting to and from Athens (ATH)

Air transportation to Athens International Airport (ATH) is available on a regularly scheduled basis through nearly all of the major international airlines and many discount and charter companies. We recommend arriving in Athens in the morning if possible to facilitate connections to Santorini. Participants coming from non-EU countries connecting in Athens for Santorini Airport (JTR) will need to pass though immigration at the first entry into the European Union, and normally also customs at ATH by collecting baggage, going through customs, and re-checking at the transfer desk. Recent reports of needing to clear customs only at JTR, however, suggest that you should listen closely to cabin crew instructions during approach to ATH. It is usually possible to select flight schedules so that overnight stays in Athens are not required when flying to and from Santorini.
Getting to Santorini (JTR) from Athens (ATH) by air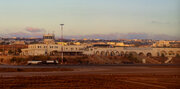 Air transport to Santorini from Athens takes less than an hour and is available multiple times per day. The Santorini airport (JTR) is about 5 km from the central town of Firá where the Nomikos Conference Centre is located, and transportation to Firá is normally by taxi, public bus, or hotel shuttle service. Airlines servicing Santorini from Athens include Aegean Airlines, and it's subsidiary Olympic Airways. Aegean Airlines (IATA code A3) is a Star Alliance partner. Olympic (IATA code OA) is not a full Star Allicance partner, but most benefits and mileage accumulations accrue. Additional flights serving ATH-JTR are available from Condor, EasyJet, and Sky Express, among others.
For an amazing view of the island while landing under the most common approach pattern, sit on the right side of the plane when going from Athens to Santorini.
Getting to Santorini (JTR) from Europe by air
Nonstop air transport to Santorini is available from many of the larger cities in Europe during the summer months through airlines like Austrian Air, British Airways, easyJet, Iberia, Lufthansa, Ryan Air, Transavia, Volotea, Vueling, etc. Flights through discount airlines as well as charter services are also available. For specific information, please contact a local travel agent in your area, or web sites such as Kayak, Opodo, Travelocity, Expedia, Google Flights, and so forth.
Getting to Santorini from Athens by sea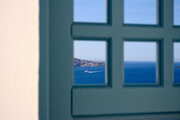 Boats to Santorini leave from the Athenian port of Piraeus (TZE) located about an hour's drive away from the ATH airport. Bus and rail transportation are available from the airport and other parts of Athens to Piraeus. The train station in Piraeus is directly across the street from the port itself, although you should be prepared for a possibly long walk to get to your boat. Boat tickets can be arranged beforehand or purchased as late as the day of travel, but often the less expensive classes of travel fill up early. If you are flying in to Athens and want to take a ferry the same day, we strongly recommend arranging the sea tickets beforehand. If you are planning a few days' stay in Athens before going by ferry to Santorini, then it is possible to purchase tickets in Athens. Ferry ticket prices are controlled, so shopping between agents for price is not necessary, although some agents do not represent all carriers and not all agents willingly accept credit cards. Boat schedules are available on line through www.gtp.gr.
The alternative seaport is Rafina, which although substantially smaller than Piraeus, is also substantially closer to the Athens airport. The boats from Rafina tend to be somewhat smaller than the boats from Piraeus, but it is worth considering taking the ferry from Rafina if you are not planning to spend time in Athens.
There are two broad classes of boats which serve the Aegean islands: traditional ferries, and high-speed ferries. The traditional boats are slower, have open decks, make more stops, and are less expensive. The high-speed ferries are faster, enclosed, and are more costly. Be sure to check the transit time in addition to the departure time for any boat you are considering, as some boats make many stops on the way to Santorini. There is only one inter-island seaport in Santorini (ATI). Slower boats can take 10 hours from Piraeus, and high-speed boats as little as 4 hours. Be certain to verify the route and schedule when booking. As of Summer 2021, passage from Piraeus to Santorini runs 35-70 euros, depending on various factors including boat speed. Smoking is permitted on some ferry boats, and on those, non-smoking sections are available.
As of Summer 2021, negative COVID tests or proof of vaccination, along with contact tracing forms are required for all ferry trips. Please inquire about current requirements with your travel agent when booking, and then verify just prior to departure.
Upon arrival in the port of Santorini you will be greeted by many hoteliers clamoring to make last-minute bookings, and taxi drivers looking for fares. Be aware that taxi prices can vary considerably with negotiating skill; the best strategy is to insist on the meter. An inexpensive public bus to the center of Firá is available and meets most boats; tickets are purchased on the bus, and only in cash, for under 2 euros. Some hotels have pickup service from the port for a fee if you arrange the details beforehand; we recommend phoning from Athens to confirm. The drive up the caldera face to the town of Firá can be breathtaking; sit by the window (either side) and be sure your phone or camera is handy!
Getting Around Firá/Firostefani
The town of Firá is the main settlement on the island, and is where the conference is held. Firá has become continuous with the town of Firostefani slightly to the north. These towns are readily explored on foot, and many establishments are not accessible by any other means. Vehicles, even scooters, are not allowed on most of the pathways in the heart of the town.
We provide a high-quality map of Santorini to participants for navigating the island. A preview of the Firá portion of the map is available that can be helpful with hotel planning.
Getting Around Santorini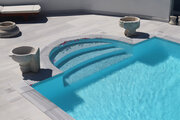 The island of Santorini is small enough that it can be circumnavigated in a single day by motorized vehicle. There is frequent bus service from Firá to all of the other towns, beaches, airport, and seaport; the bus depot is near the center of town and the inexpensive tickets (under EUR 2) are purchased in cash on the bus. Cars, motorized scooters, and bicycles are readily available for hire, but you must have a motorcycle license to rent even the smallest of two-wheeled scooters, and an international driving permit is now required for all bearing non-EU licenses. Filling stations are strategically placed around the island. The central taxi station is in Firá. Although it is technically possible to hail a cab, empty taxis typically do not circulate looking for fares, thus rides are best arranged by phone or by going to the main taxi stand in Firá. There can be a very, very long wait at the taxi stand. When calling for a cab, be prepared for a long and somewhat ill-defined delay before one arrives. Make sure that the taxi driver sets the meter when you enter the cab. Longer taxi rides should normally not exceed 30 euros. A typical fare from Firá to the nearby town of Pyrgos is 10 to 12 euros. As of 2021, ride sharing services like Uber and Lyft do not operate in Greece, but there is a well-regarded app called Taxi Beat that works for licensed taxis. Bear in mind, however, that while taxis are plentiful in Athens, in Santorini there are an inadequate number (25 total cars) for the demand driven by summer tourists.
Local travel agencies offer day trips to the nearby islands and especially the volcano and hot springs in the caldera. If you visit the volcano, be prepared to walk uphill for 20 minutes. You will need to bring a hat and sun cream as there is no shade whatsoever, along with sturdy shoes as the volcanic rock is sharp and can be hot. Flip-flops are discouraged. If you visit the hot springs for a swim, be aware that the high mineral content, especially sulfur, can discolor swimwear. In 2006, the volcano excursion had reports of jellyfish in the springs (and since then, that excursion stops elsewhere for a swim).
What Santorini Looks Like Right Now
We have put up a page of collected web cams of Santorini (when viewing, don't forget that Greece is on Eastern European Time, GMT+2 in the winter or GMT+3 in the summer). Some of these are more reliable than others, but as a collection, they form a nice view of the caldera from different points along the populated rim. If you find a webcam that is not listed on that page, please let us know!
---
Copyright 2005–2022, All Rights Reserved.
AREADNE | Email | Search | Archive